Senator Sullivan Releases First TV Ad: "Stronger"
ANCHORAGE, AK – Alaskans for Dan Sullivan today released its first television ad, titled "Stronger". The piece highlights Sullivan's ongoing efforts in the U.S. Senate to fight the COVID-19 pandemic, ensure the health and safety of Alaska families, workers and small businesses, and restore economic stability to the state.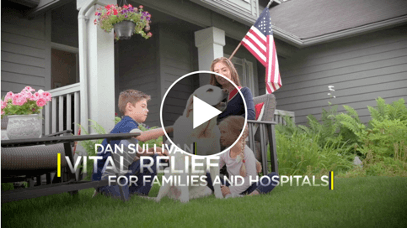 Transcript:
The pandemic hit America hard – and Alaska's economy, even harder.
I've worked with Republicans and Democrats to provide vital relief for Alaska's families, frontline workers and hospitals…
…secured millions for our fishermen and small businesses…
…and fought to defend Alaska's energy jobs when oil prices collapsed.
Tough times don't last, but tough people do
We'll get through this Alaska, stronger and more resilient than ever.
I'm Dan Sullivan and I approve this message.
BACKGROUND:
Since the onset of the COVID pandemic, Senator Sullivan has worked on a bipartisan basis to pass historic relief economic relief efforts, including the Coronavirus Aid, Relief, and. Economic Security Act (CARES) Act and subsequent legislation resulting in more than $3 trillion in coronavirus relief, with billions in relief funding to Alaskan families, Native communities, front-line healthcare workers and relief loans to small businesses through the Paycheck Protection Program (PPP). Senator Sullivan also spearheaded regulatory changes that allowed Alaska's seasonal small businesses and fisheries to be made eligible for maximum PPP loan relief.
###